The 5 Year Anniversary of Vue.js Amsterdam will take place on 10-11 February 2022 and we will BACK on the massive stage at Theater Amsterdam
5 YEAR ANNIVERSARY OF VUEJS AMSTERDAM
Vuejs Amsterdam 2022 Will take place on 10-11 February 2022 and we will be back on the massive stage at Theater Amsterdam. We could not be more excited to celebrate the 5 year anniversary of Vuejs Amsterdam with you Live and In-Person.
Since Vuejs Amsterdam started in 2018 it has been a sold-out conference with the creator of Vue, Evan You opening the event.

VUE CORE TEAM AND CONTRIBUTORS
Vue core team members and contributors are booked in to speak about:
Vue 3: Hooks, TypeScript, Portals, Fragments, Compiler, Pinia
Tools and Libraries: Nuxt.js, VueStoreFront, Vue UI, Vuetify, BootstrapVue, VuePress, Vue DevTools, Vuex ORM
Hot Topics: JamStack, Design Systems, RxJS, Meteor, GraphQL, Apollo, Accessibility, Webpack5
Best Practices and Inspirations: Compenentize SVGs, Authentication from Scratch, Composition API Explained Visually, Deploying Vue Applications
Vuejs Amsterdam is the World's Leading Frontend Vuejs Conference with the following speakers confirmed for the 2022 edition
Sebastien Chopin Authors of Nuxtjs, Filip Rakowski Founder of VueStoreFront, Natalia Tepluhina Vue Core Team Member, Eduardo San Martin Morote Vue Core Team Member, Maya Shavin, Alex Kyriakids from VueSchool, Shodipo Ayomide from StackOverflow and more..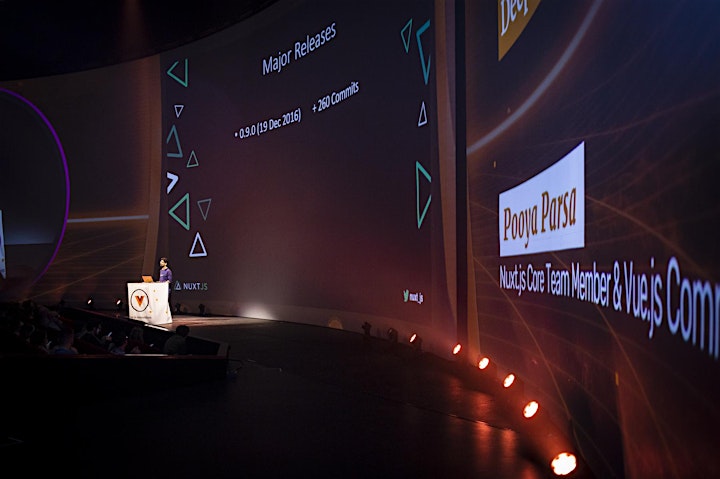 THEATER AMSTERDAM
Has been described by our global Javascript leaders as the "greatest conference venue in the world".
You will get to see Vue Experts delivering high-level talks with coding examples on a large 500m2 Screen. As part of your conference experience, we have arranged diverse, world-class and free lunchtime catering.
You get to relax and sit back in cinema seats allowing you to open up your laptop if you wish to code along.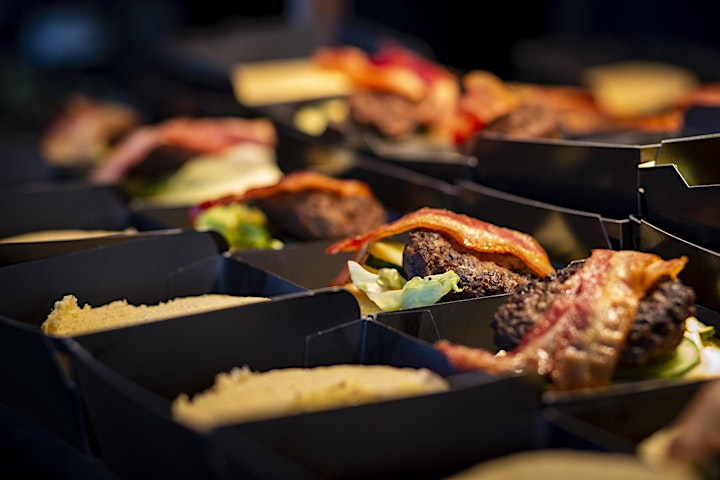 BUY YOUR TICKETS
Vuejs Amsterdam 2022 is an in-person Event back at Theater Amsterdam. Full Refunds Apply should the Event not be able to take place.
Vuejs Amsterdam is the World's Leading Frontend Vuejs Conference and we could not be more excited to have you back in-person in 2022!
Do you already follow us on Twitter @vuejsamsterdam?
Did you know that you can watch all Vuejs Amsterdam 2018, 2019, 2020, Vuejs Global Remote and Vuejs Amsterdam 2021 Remote videos back on our own Youtube Channel? (https://www.youtube.com/vuejsamsterdam).
Our conference is organised by the team of Passionate People.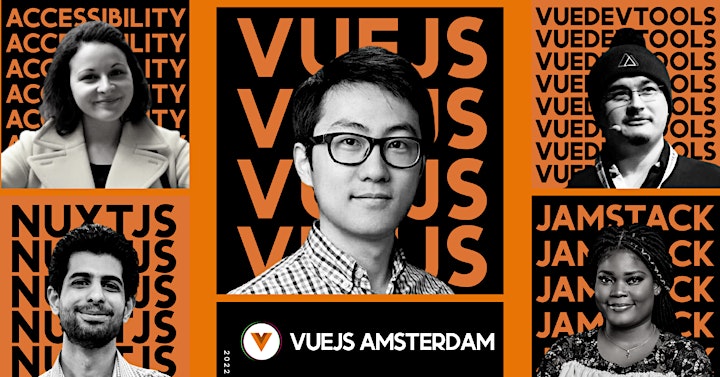 JSworld Conference runs the Largest and Most Epic Javascript Conferences.

We bring together Global Javascript Leaders for the benefit of the Frontend Javascript Community.

We have had over 6,000 paying customers to our conferences so far.

But our Frontend Developer Conferences attract people from all over the world with people traveling and tuning in from over 100 countries to visit our events in person or online.

We are proud to run www.frontenddeveloperlove.com, www.reactlive.nl, www.angularnl.com, www.productupconference.com alongside running other smaller events in Barcelona, Paris & Berlin.

We are proud to give back to the Javascript Frontend Community alongside our technical partner www.passionatepeople.io