In this breakfast event, you will be equipped with the tools, techniques and leadership principles you need to meet the trends ahead.
2022 is forecast to be another turbulent and challenging year for in-house recruiters.
To help you with this, HireVue has joined forces with SmartRecruiters to equip you with tools, techniques and leadership principles that you need to meet the trends that lie ahead.
In this intimate speaker and networking breakfast event for 30 management-level in-house recruitment professionals, you will hear from senior TA leaders at organisations like Amazon and Balfour Beatty, leaving you with your own winning playbook for successful hiring in 2022.
What's being discussed
The leadership principles you need when hiring in a changing market
How to identify and pull the potential out of graduate hiring
The TA trends coming your way and how to harness them
How to hire fast and fair in a competitive industry
New technologies you can use to attract, engage and hire the best talent
…and much more!
Speakers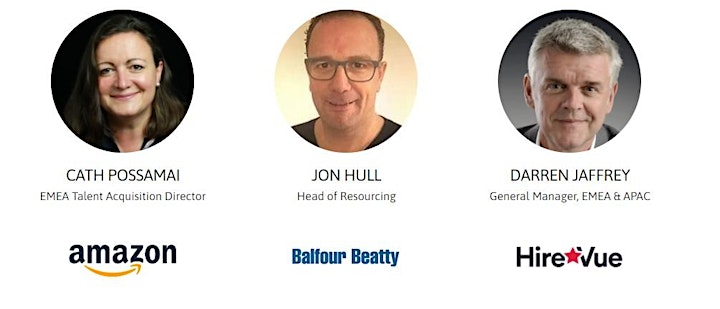 Who will be attending?
This speaker & roundtable networking breakfast event is exclusively reserved for 30 In-house recruitment/HR professionals from a variety of companies.
Agenda
08:30 – Registration with complimentary hot breakfast rolls, tea, coffee & juice
09:00 – Opening announcements
09:10 – 1st guest speaker presentation with Q&A
09:30 – 2nd guest speaker presentation with Q&A
09:50 – 1st interactive roundtable discussion
10:30 – Coffee break
10:50 – 3rd guest speaker presentation with Q&A
11:10 – 2nd interactive roundtable discussion
11:45 – Closing comments
12:00 – Event close
Host
IHR is the largest and most engaged community for In-house Recruiters. Our 20,000+ members benefit from over 70 events each year ranging from 1000-strong exhibitions and high profile awards to exclusive half day breakfasts and targeted dinners for Recruitment Leaders. We also produce industry leading digital whitepapers, webinars and speaker videos alongside a reviews-based industry supplier directory. Not a member? Why not join for FREE today!
Restrictions
Please note, this is an invite-only event
Strictly reserved for In-house Recruitment and HR professionals only
Recruitment agencies and industry suppliers are not permitted to attend (other than our official event partner)
Event partners

HireVue is where hiring happens – transforming the way organisations discover, engage, and hire the best talent. Connecting companies and candidates anytime, anywhere, HireVue's industry-leading end-to-end hiring platform features video interviewing, assessments and conversational AI. HireVue has hosted more than 26 million video interviews and 150M chat-based candidate engagements for over 700 pioneering customers around the globe.

As a global leader in enterprise recruitment software, SmartRecruiters offers a cloud-based global Talent Acquisition Suite that allows teams to attract, select, and hire the best talent. 4,000 companies worldwide rely on SmartRecruiters to achieve hiring success—including brands like Bosch, LinkedIn, Skechers, Ubisoft or Visa—using recruitment marketing, CRM, AI, ATS, and a marketplace of 600+ connected vendors all within one scalable platform.
True to its mission of connecting people to jobs at scale, SmartRecruiters was recognized by Forbes as one of the Best Employers in 2020.
IHR is the largest and most engaged community for In-house Recruiters. Our 20,000+ community benefit from over 70 live and virtual events each year ranging from our 1000-strong exhibitions and high profile awards to exclusive half-day breakfasts and targeted dinners for Recruitment Leaders. We also produce industry leading digital whitepapers, webinars and leadership videos alongside high value community forums and an all-inclusive supplier directory. Membership is free, why not join today? https://inhouserecruitment.co.uk/join