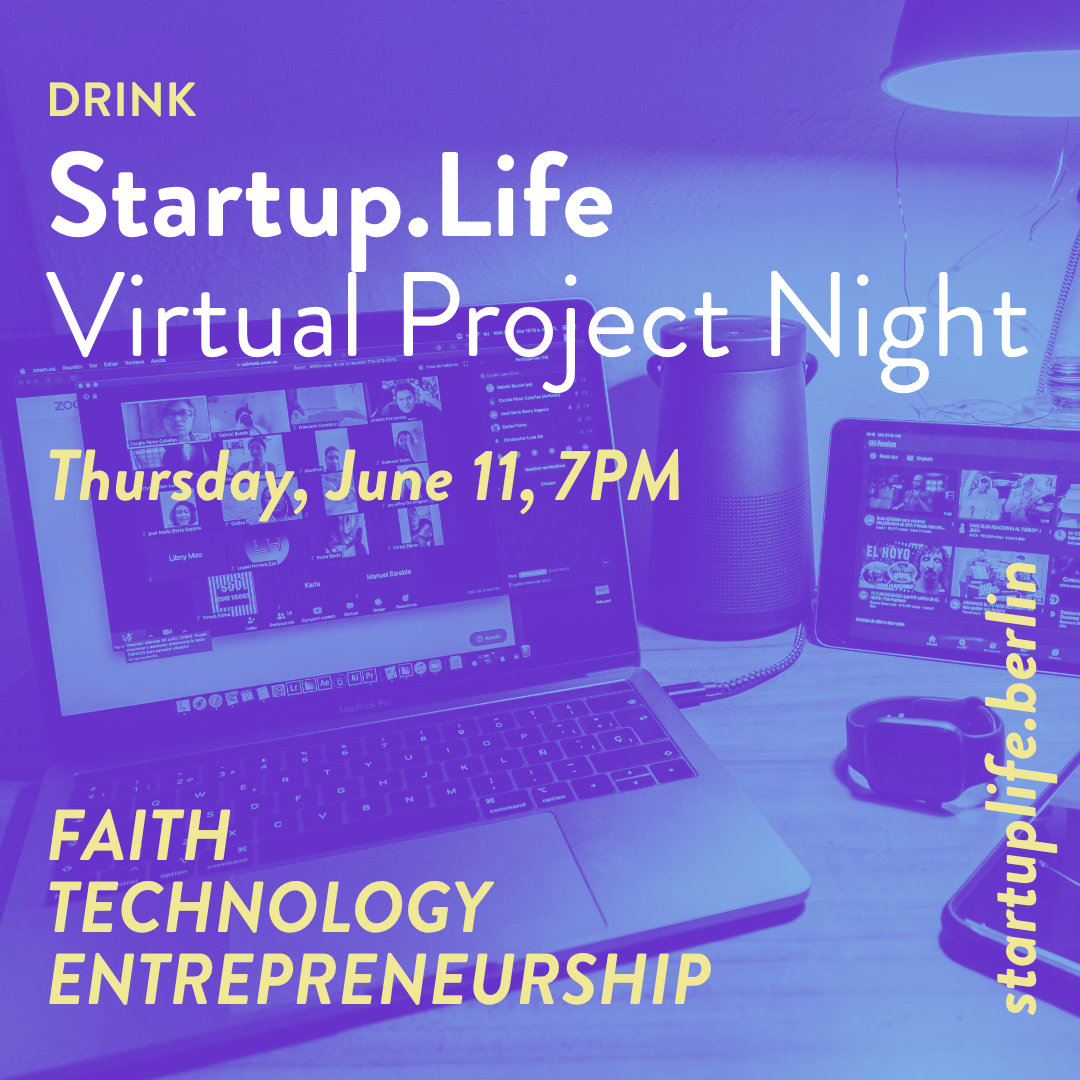 Join us for an hour of exchange and connection.
This time we want to hear from you:
Signup to give a 60 second pitch or announcement on May 28th @ 7pm CET! (Email info@startuplife.berlin with your topic)
This can be about anything! Looking for a job, 
know of a great event or resource,
or maybe you have a project you are working on,
and you want to connect with like minded people?

Present anything that you like to share with the community. 

We're going to allow the first 15 topics/pitches in our next zoom meetup! 
Feel free to join us and listen! 
Location:
Zoom
Meetling links will be sent to attendees before the event.
StartupLife
Wir erforschen die Schnittstelle von Glauben, Technologie und der Gründerszene aus christlicher Perspektive.
Gemeinsam wollen wir entdecken, was es bedeutet, Jesus im Kontext unserer Arbeit nachzufolgen. Wir wollen mit unserer Expertise Menschen in unserer Stadt und darüber hinaus dienen.
--
We celebrate the intersection of faith, technology, and entrepreneurship from a christian perspective. 

Together we want to explore what it means to follow Jesus in the industry and use our knowledge and skills to serve others in our city and beyond.
Learn more at https://startuplife.berlin
Die Teilnahme ist kostenlos. Da wir eine limitierte Anzahl von Plätzen zur Verfügung haben, meldet euch bitte an!
Mit der Anmeldung zu der Veranstaltung des StartupLife Berlin willigt ihr ein, dass Fotos oder auch Videos die auf dieser Veranstaltung gemacht werden und euch abbilden, durch Gemeinsam für Berlin e.V. und das Berliner Institut für urbane Transformation (BIT) Überkonfessionelles Studienzentrum im NEUES LEBEN e.V. vervielfältigt, verbreitet, gesendet und öffentlich zugänglich gemacht werden dürfen. Diese Lizenz wird unentgeltlich eingeräumt.
Diese Einwilligung ist widerruflich. Ihr haben jederzeit die Möglichkeit, Fotos/Videos die von euch oder eurer Begleitung auf der Veranstaltung gemacht wurden und die sich auf Webseiten des StartupLife.Berlin, Gemeinsam für Berlin, BIT oder auf Seiten in Social Media Plattformen (insbesondere Facebook und Twitter) oder auf YouTube befinden, durch uns entfernen zu lassen. Dafür reicht eine kurze Mail an info@startuplife.berlin
---
Attendance is free of charge. Since we have a limited number of places available, please register!
By registering for the StartupLife Berlin event, you agree that photos or videos taken at this event and depicting you may be reproduced, distributed, broadcast and made publicly accessible by Gemeinsam für Berlin e.V. and the Berliner Institut für urbane Transformation (BIT) Überkonfessionelles Studienzentrum im NEUES LEBEN e.V. (Berlin Institute for Urban Transformation). This license is granted free of charge.
This consent is revocable. At any time you have the possibility to have photos/videos taken of you or your companions at the event and which can be found on the websites of StartupLife.Berlin, Gemeinsam für Berlin, BIT or on pages in social media platforms (especially Facebook and Twitter) or on YouTube removed by us. All you need to do is send a short mail to info@startuplife.berlin