Den här 2-dagarskursen ger dig en omfattande översikt över de DevOps-färdigheter som krävs för att kunna påskynda time-to-market, genom att förbättra värdeflödet genom the Continuous Delivery Pipeline.
Du som deltar på kursen kommer att få träning i att kartlägga värdeströmmar genom Delivery Pipeline, från idé till intäkt, samt lära dig hur du identifierar och eliminerar flaskhalsar. Du får också lära dig hur du tar fram en implementationsplan för DevOps för din organisation.
Kursen ger dig förståelse för hela värdeflödet - från Continuous Exploration till Continuous Integration, Continuous Deployment och Release on Demand. Tillsammans kommer vi att gå igenom hur SAFe®s CALMR (Culture, Automation, Lean, Measure, Recover) relaterar till DevOps, vilket hjälper dig att skapa en kultur av delat ansvar för leveranser. Tillsammans bidrar detta till att synka människor, processer och teknik i hela organisationen för att uppnå en snabbare time-to-market.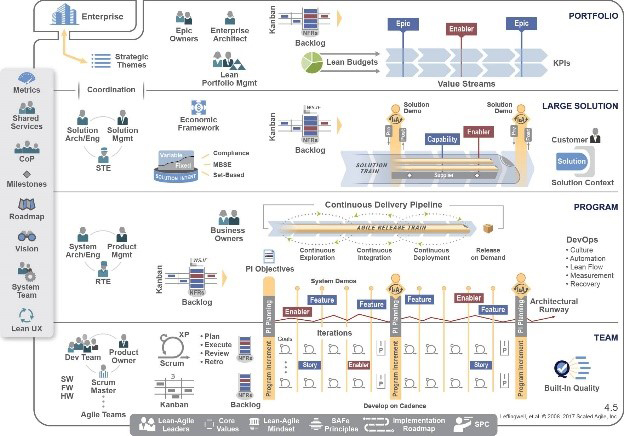 Du kommer efter kursen att ha den kunskap du behöver för att ta fram, stödja och genomföra en implementeringsplan för att förbättra din organisations Delivery Pipeline. Kursen förbereder dig också för SAFe® 4 DevOps Practitioner (SDP) certifieringstest som ingår i kursavgiften.
Ämnen som omfattas i kursen:
Introduktion av DevOps-konceptet
Kartläggning av Continuous Delivery Pipeline
Använda arbetssättet Continuous Exploration för att finna rätt inriktning i arbetet
Använda Continuous Integration för att få rätt kvalitet
Förkorta time-to-market med hjälp av Continuous Deployment
Vidta åtgärder och leverera affärsvärde när det behövs med Release on Demand
Vidta åtgärder
Du kommer efter kursen att kunna:
Förstå och förklara hur DevOps kan hjälpa er leverera affärsnytta både snabbare och bättre
Förstå hur DevOps kan implementeras i en uppskalad agil arbetsmiljö baserad på SAFe
Förstå, tillämpa och förklara tillvägagångssättet i CALMR och hur det kan användas för att lyckas med DevOps
Förstå hur framgångsrik tillämpning av DevOps kräver Continuous Exploration, Continuous Integration, Continuous Deployment och förmågan att kunna leverera till slutanvändare vid behov
Tillämpa koncepten Continuous Testing och Continuous Security
Kartlägga och mappa värdeströmmar för att mäta genomflöde och identifiera flaskhalsar i leveransprocessen
Välja och utveckla rätt färdigheter och verktyg för införandet av DevOps och för att nå avsedda affärsmässiga resultat
Prioritera lösningar och investeringar i DevOps för största ekonomiska vinning
Ta fram och implementera en anpassad aktivitetsplan för en DevOps-transformation i din organisation
Arbeta med alla roller och nivåer i din organisation för att kontinuerligt optimera värdeströmmarna
OBS! För att betala med faktura, vänligen skriv FAKTURA i fältet märkt "Enter Promotional Code".
NOTE! To pay by invoice, please type FAKTURA in the field marked "Enter Promotional Code".