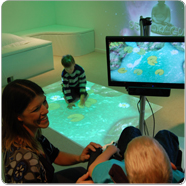 Bas Tijdhof from Link AT will be visiting Perth to showcase this exciting accessible sensory technology. This is the newest technology to update sensory rooms in our schools and provide new interactive opportunities for students with physical disabilities. The following products will be demonstrated and individuals & their families will be able to make an appointment to trial the technology with Bas.

Magic Carpet- a sensory learning tool for people of all ages and abilities. This system uses an overhead projector to project interactive games and images onto the floor, where users with even limited movement can play, interact and control the games by moving on or over the projected image. The range of available applications can be customised to the individuals needs. This technology can respond to the slightest body movement and an eye control interface (Tobii PC Eye) is also available. The combination of the magic carpet and eye gaze technologies can open up interaction between a student who has access difficulties and their peers.

Eye Control Eye Fx- A range of eye controlled applications for use with learners who are at the beginning of the eye gaze learning curve.

For more information on this product visit:
http://linkassistive.com/magiccarpet.htm
http://www.youtube.com/user/sensorygurutube

Hosted by ILC Tech. Enquiries to Amy Litton on 9381 0600 or email amy.litton@ilc.com.au
Limited places are available. Please limit registrations to 1-2 people per school/ department/ organisation.
Families of children or adults with a physical disability can book an individual 20 minute trial appointment with Bas & staff from ILC Tech, to trial this technology. 20 minute sessions can be booked between 10:30-12:30pm. To enquire about booking a timeslot to trial this technology please contact Amy Litton (Speech Pathologist- ILC Tech) on 9381 0600 or amy.litton@ilc.com.au. Limited places are available. Families are welcome to register for both the information session and an individual 20 minute trial appointment.