Join Women in Tech UK and connect with Deutsche Bank recruiters looking to hire female technologists.

Deutsche Bank Open Evening
Deutsche Bank is the leading German bank with strong European roots and a global network.
The bank focuses on its strengths in a Corporate Bank newly created in 2019, a leading Private Bank, a focused investment bank and in asset management. more
Deutsche Bank is bringing together support for innovative IT solutions, social projects and female empowerment. Join Woman in Tech and connect with recruiters looking to hire female technologists.
Audience: women working in technology in the UK
FREE ADMISSION - If you love technology and you're looking for a job, you're in luck.
Learn more about what it's like to work at Deutsche Bank: our vision, values, and commitment to our employees.

Online via Techmeetups Zoom from 18:00 (GMT)
On the event day:
Presentation - Deutsche Bank
Q&A session
After the event:
The Deutsche Bank Recruitment Pitch will be shared with job seekers
The job seekers list is shared with Deutsche Bank
Deutsche Bank can start to engage registrants for the first Interview
We want to meet YOU!
NOTE: We check job seekers registrations to make sure they are accurate and authentic. We can cancel your participation if we find false or misleading information. Deutsche Bank can decide to contact you after the event for an interview and possibly hiring. Deutsche Bank decides whether to interview or hire the best candidate for their qualifications.
Techmeetups does not guarantee job seekers any interview or hiring from any company. TechMeetups is all about YOU so come along, join us and let's connect to form a truly global tech community!
Let us know your need, and we'll let you know how we can help at marketing@techmeetups.com
Scan the code below to apply directly to open roles at Deutsche Bank.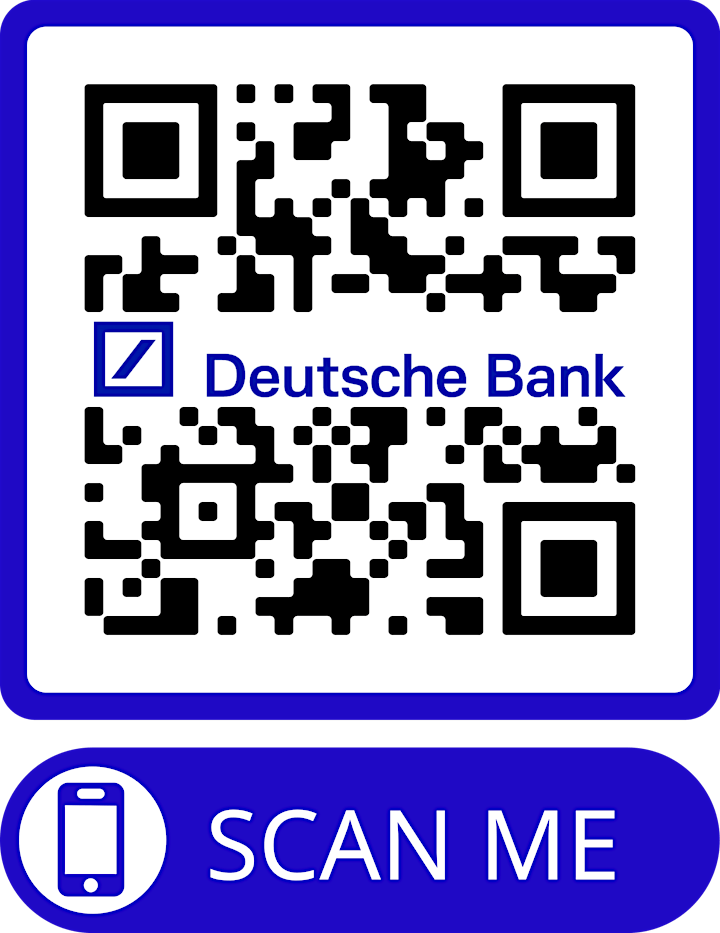 We help companies through Events like Meetups, Job Seekers Night, Drinks & Demo, Pitch night, recruITech, Workshops, Hackathons, Job Fairs, Developers Speed Dating https://techmeetups.com/events
Need someone urgently to join your organization? Let us help you promote your job. Finding the right talent is one of the main issues faced by companies but we make the process easier, smoother and quicker for you http://www.techstartupjobs.com
Planning on an event but not sure of how to promote it? Leave it to us! Our team of experts will make sure that your event becomes the buzzword in the community. Choose from our Platinum, Gold, Silver and Bronze plans, based on your requirement, and we will leave no stone unturned to make your event a huge success https://techmeetups.com/product-category/promote-my-event
Testimonials https://techmeetups.com/testimonials
Our blog https://techmeetups.com/blog
Event pictures https://www.flickr.com/photos/techmeetups/albums
TechMeetups is all about YOU so come along, join us and let's connect to form a truly global tech community!

Techmeetups.com & Techstartupjobs.com