CPD Accredited 2nd International Conference And Expo on

Oil & Gas
About
I would like to welcome each of you to the 2nd International Conference and Expo on Oil and Gas to be held on December 2-3, 2019 in the beautiful city of Gold Dubai, UAE.


Oil and Gas 2019 gives a programme for directors, deans, professors, research scholars, students, and industry experts to share their research work while the participants from company/industry/ business areas can promote their products thus felicitating dissemination of knowledge.

The theme "A prospective booming and contemporary innovation in oil field" is a great platform to learn about the growth, analysis, marketing strategies and challenging Oil price and futurism of Oil Gas field.

It's an exciting time for AAC as welcome to grow and adapt, motivated, responsive to open to new ideas. The oil and gas are an exciting area in which to study, research, industries, and we'll continue to meet and bring inspired people together in forums like this, to ensure our organization remains at the cutting edge.

Our Organization has successfully conducted more than 300 effective conferences in a wide range of sectors across the USA, Europe, and Asia, more than 1000 scientific society's support and a 400+ open access journal, which includes 30000 eminent personalities in the editorial board member.

Text Link Directory
We believe the conference will worth your time which bestows incredible knowledge and ideas, better chances of networking and obviously, significantly more fun.
Scientific Session
Session on: Oil and gas engineering

Oil and gas engineering is the global processing of extraction, exploration, refining, transportation, and pipeline and marketing from oil production. Oil Gas is the vast source of energy used over the world, about 65% of energy source we are using from oil and gas and their products, as the recent and future with the artificial intelligence in oil & gas are to be discussed in the session on Oil and gas engineering. Further, SAP is the tool used in Oil gas industries for easier the activities of oil engineers.

Session on: Enhanced Oil Recovery

Enhanced oil recovery is an extraction of crude oil from an oil field. EOR is the technique where the physicochemical properties of the rock are changed to enhance the recovery of hydrocarbon. It is also called tertiary oil recovery method and it is performed after waterflooding. Enhanced Oil Recovery (EOR) has longer productive well life, reduced lifting costs, reduced environmental concerns and costs, minimized treatment and disposal of water, reduced well maintenance costs.

Session on: Drilling engineering

Drilling technology is the response for well design and procedure, the most important measure in drilling oil wells is to safe for the surrounding environment and It would be economical access to subsurface geological formations to optimize their production resource. 3-D imaging which is the used for the subsurface geological standards and explores oil and gas deposit is also known as seismic imaging. The major part of the discussion in this session is hydraulic fracturing and micro-drilling which is the trending drilling method used nowadays to explore oil wells.

Session on: Pipeline and processing

Pipeline engineering is the construction, operation and maintenance of pipeline systems. It plays a major role in transporting crude oil production from the well. The crude oil is carried through one location to another location by the pipeline transportation for the distillation process. Several Developed and developing countries their investment is raised by 12% than 2016 on the oil industry. Onshore and offshore are the platforms for the oil gas industry. The pipeline must be built with certain environmental concern with reduced noise pollution, soil erosion and contamination on the pipeline system in Oil gas field and several subtopics were to be discussed in this session.

Session on: Reservoir engineering

Reservoir oil and gas engineering impart a qualification to geology in being one of the extraordinary underground sciences of the oil industry. The working apparatuses of the reservoir engineering are subsurface geology, the fundamental laws of material science, applied mathematics, science administering the conduct of fluid and vapour periods of crude oil, natural gas, and water in the reservoir rock. They work with advanced equipment, such as computer Modeling and imaging programs, reserves of oil and natural gas where located.

Session on: Conventional and Unconventional Oil

Oil which are deposited million years ago which are extracted by the traditional drilling methods, they are under certain atmospheric pressure thus they liquid flow without any additional stimulation for oil extraction. The unconventional oil which requires advanced production method for extracting the crude oil due to its heavy formation thus it can flow freely hence the unconventional oil is extracted by the vertical drilling techniques. It is more expensive than conventional oil. Unconventional Oil is rising in demand for fossil fuels and falling reserves of conventional It is a revolutionary technology in which hard to access Oil reserves economically.

Session on: Upstream processing and advancement

Upstream processing by extracting the crude oil by producing oil and natural gas is also known as the exploration and production sector. Major oil and gas are produced by the upstream processing which is certainly 68% of total world oil and gas production. According to the survey the Canadian upstream producing 80% of oil and natural gas. And top companies invested 430 billion dollars in this process.

Session on: Offshore platform and onshore oil gas exploration

In offshore Oil platform drilling underneath the seabed, they are different types of oil rig are a compliant tower, Semi-submersible platform, Jack-up drilling rigs, Drillships Floating production systems, Tension-leg platform, Gravity-based structure, Spar platforms these are the major oil rig types in an Offshore platform in the oil industry. onshore drilling refers to drilling deep holes under the earth's surface these are the drilling method in order to extract the natural gas and oil. Offshore drilling is also classified by bottom-supported units and floating units. These sessions elaborate on the types of the offshore oil platform and onshore oil exploration.

Session on: Petroleum Geology

Petroleum geology is the exploration of oil or hydrocarbon by locating the energy source. Seven key elements in sedimentary basis they are the source, reservoir, seal, trap, timing, maturation and migration. In deep of this petroleum geology will elaborate about the systematic processes of rock mechanics, reservoir geomechanics and simulation are the specific categories in this session.

Session on: Sustainable Bio-based Industry

The bio-based industry is accomplished due to solve current global challenges. Biotechnology plays an important role in this transformation towards a sustainable bio-based industry, Transition of the oil-based economy to a bio-economy, Over 10 % of biofuel are increased by the year 2016. By early 2030 the market of the bio-based industry will be increased.

Session on: Biofuel, Biorefinery and Hydrocarbon

Biofuel is produced by the biological process by using different sort of micro-organisms. Advanced biofuel is derived by cellulose, agricultural and forestry residues they are attire by the different approaches by a wide range of biofuel such as next-generation biofuel, sustainable, renewable and advanced biofuels. Advanced biofuel is several benefits to both economic and environment globally. Biofuel is strengthening and growth of European nations economically. The biorefinery is a conversion of biomass into fuel, power and heat. They are highly efficient for producing food, energy and other products. The biorefinery is successful operational and investment costs. Biorefinery has the highest energy efficiency with the ratio of 72.5%Oil is the hydrocarbon fuel which is made of different compounds like methane. Small hydrocarbon is more volatile that is easily turn up to gas. Hydrocarbon is also known as oil gas exploration. Hydrocarbon plays a key role in the Oil and Gas industry Future.

Session on: Nanomaterials in Oilfield

Oil, Petroleum, natural gas is trending with applying of Nanotechnology worldwide. This makes the more effective on Oil Gas Industries production. Nano-fibres, Nanorobots are some of the nanomaterials were used in oil recovery, 75.8 billion dollars' worth in 2020. It potentially useful to advancement and save time in drilling, refining production or processing in Oil recovery.

Session on: Microporous polymers and their applications

In oil gas field polymers are new applied technology for the recovery process of oil fields. It is a new way of target hydrocarbon which has high efficiency to produce fuels, according to surveillance in 2015 around 17,340 tonnes are in demand of polymers in oil and gas and estimated the calculating steady growth of the polymer application in oil and gas from 2018-2021 will be increased by 5.6 per year.

Session on: Future area of research in petroleum and oil-gas industries

Oil Gas industry researchers are working to improve the technologies and undergoing economic projects. From 2019, the smart drilling, smart oil technology and digital transformation of Offshore and challenging oil rig decommissioning. Our biggest challenging factor in oil industry decommissioning which reach 13 billion Dollars a year by 2040. In the Oil and Gas Industry, Decommissioning of oil rig will solve only by the effective work and proper decision by engineers.

Session on: Petroleum economics

Economics play a key part in the entire oil and gas producing industry. Every Innovation is applied after the analysis of market and profit value. The Oil and gas industry sort of only if the chance of making cost worthy and goal to reach the profit. They look up to the world make with certain technologies or innovation which they give increase share value and profit.

Session on: Health and safety management in Oil & Gas industry

In oil and gas industry, one of the most hazardous industry sectors, the combination of powerful equipment, flammable Chemicals can lead to hazardous incidents. There would be essential for administrating Safety Supervisors/Managers with safety control before entering into the work site. The survey records layout in Oil and gas sector over 74% of incident happens due to human error which causes 26% of workers leads to major incidents and 3% of workers leads to death in oil and gas industry globally.
AGENDA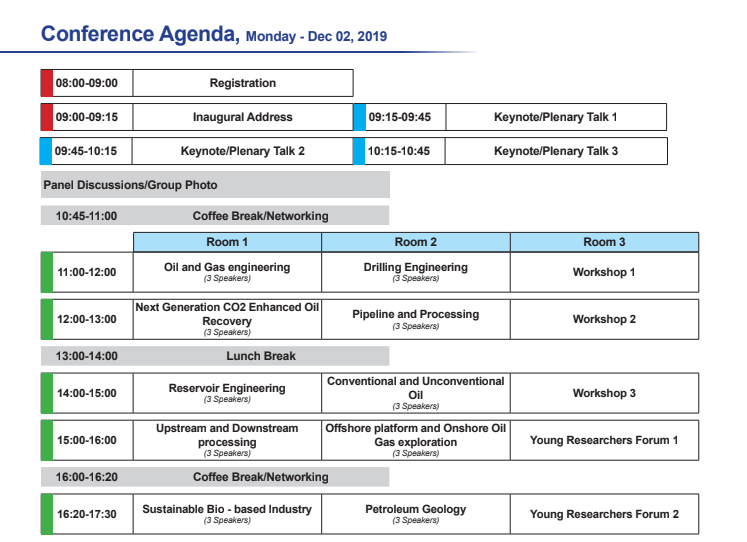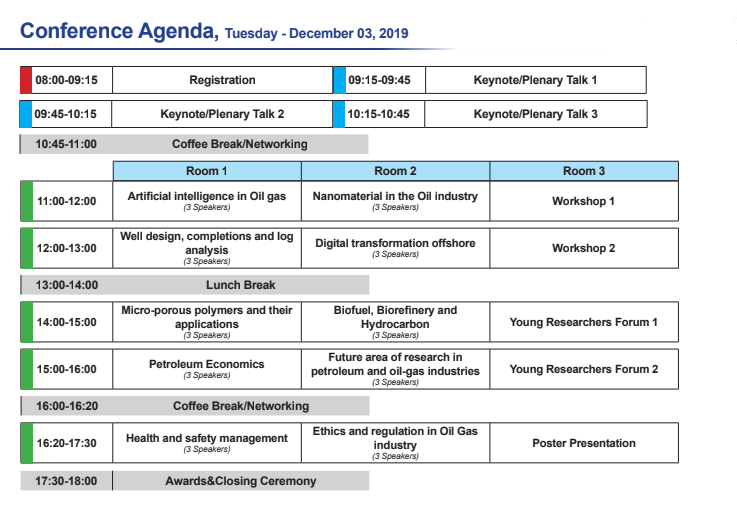 Please contact the event manager Marilyn (marilyn.b.turner(at)nyeventslist.com ) below for:
- Multiple participant discounts
- Price quotations or visa invitation letters
- Payment by alternate channels (PayPal, check, Western Union, wire transfers etc)
- Event sponsorship

NO REFUNDS ALLOWED ON REGISTRATIONS
Prices may go up any time. Service fees included in pricing.
-----------------------------------------------------------------
This event is brought to you by:
Allied Academies - NewYorkEventsList
http://www.NyEventsList.com
http://www.BostonEventsList.com
http://www.SFBayEventsList.com
-----------------------------------------------------------------
VIO190401CRE