Biotech Connection Los Angeles is hosting a recruitment session with Gilead and it's subsidiary Kite Pharma! This is a great opportunity to learn about the company, get insights on their work culture, meet representatives and learn about current opportunities within the company. This recruitment session will solely focus on recruiting candidates for entry level positions within the Research Department at Gilead's Foster City location and the Operations Department at Kite Pharma's Santa Monica and El Segundo locations .
Gilead Recruitment (Foster City Location):
These positions require a PhD or MSc level of education with experience and/or background in Chemistry, Pharmacology, Chemical Engineering, Medicinal Chemistry/Formulation.
Kite Pharma Recruitment (Santa Monica and El Segundo Locations):
The target candidate pool for Kite Pharma lies with BSc or MSc level candidates with Cell biology/Molecular Biology backgrounds who are open to considering positions within Technical Operations/Manufacturing.
We highly encourage PhD, MSc and BSc candidates close to finishing their program or have recently graduated, Postdocs, Entry level Research Scientist currently looking for job opportunities in the biotech industry to attend this event.
This is a highly anticipated event and space is limited so if you are interested please make sure to RSVP now! This event is free and everyone is welcome! If you plan on attending this event please bring an updated CV/Resume and business casual attire is highly recommended.
Program Overview: 
5.30 - 6.00 pm    Registration / Check-in

6.00 - 6.30 pm    Gilead Sciences Introduction
6.30 - 6.50 pm    Kite Pharma Introduction, Q&A
                           Food/beverage break
7.00 - 8.30 pm    Recruiter Meet & Greet
Parking Information:
The closest parking options are-
Parking Structure A (PSA) for $12 a day. You can access this structure either from Entrance 1 (Exposition Blvd) or Entrance 6 (Vermont Ave).
Street parking (meters) are also available on Vermont Ave.
For other parking options around USC please visit: https://visit.usc.edu/maps-directions/university-park-campus/public-parking/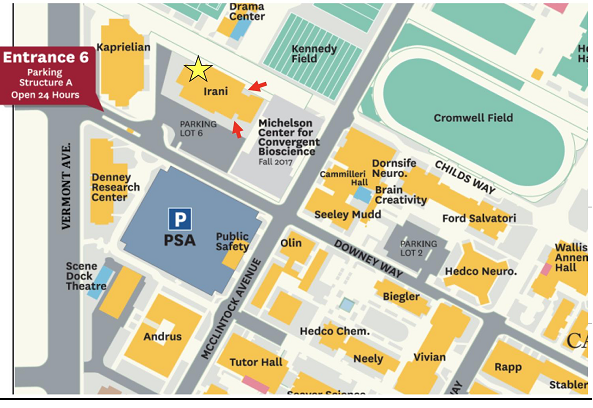 About Gilead:
Gilead Sciences is a research-based biopharmaceutical company that discovers, develops and commercializes innovative medicines in areas of unmet need.
For more career opportunities at Gilead, please visit: https://gilead.avature.net/careers/ 
For more information on internship opportunities available at Gilead, please visit: https://gilead.avature.net/careers/CurrentOpportunities
About Kite Pharma:
Kite, a Gilead company, is dedicated to achieving one of the most ambitious goals of 21st century medicine: curing cancer. This mission is at the heart of everything we do, from early research to product development. For the past three decades, members of our team have been at the forefront of cancer immunotherapy. Today, we are a leader in engineered T cell therapy, changing the paradigm of cancer treatment with what is potentially the biggest breakthrough since the introduction of combination chemotherapy more than 60 years ago. With an unrelenting drive and a singular focus on cell therapy, our team is executing on our strategy to bring life-saving therapies to patients. In all areas of the company, we are looking for the very best people who share our deep passion to cure cancer.
Kite career website: https://gilead.wd1.myworkdayjobs.com/kitepharmacareers
About BCLA:
Biotech Connection Los Angeles (BCLA) is a project of the 501(c)(3) non-profit Community Partners. We are an organization run by academics and biotech professionals from all over Los Angeles. For more information about us, please visit our website: https://www.bc-la.org/
***By RSVPing to this event, you agree to join BCLA's mailing list to receive monthly newsletters and information on other exciting events happening in the LA biotech landscape! Your information may be shared with the partners organizing this event.***
---
Thank you to our Event Sponsor:




Thank you to our Core Sponsors: