Course Overview
This two-day course trains delegates in all the key aspects of the Scrum Framework to prepare delegates to not only take the Scrum Alliance ScrumMaster® exam but employ practical skills & knowledge required to drive a successful Scrum Project as a ScrumMaster®.
Course Content
Topics covered are:
Agile Principles and the Agile Manifesto
The Case for Scrum
The Scrum Process
Scrum Master Roles & Responsibilities
Mastering Scrum Ceremonies
Mastering Scrum Artefacts
Advanced Scrum
Transitioning to Scrum
Learning Objectives
By the end of this course you will be able to:
Participate actively as a Scrum Team member

Function effectively as the Certified Scrum Master for the Scrum Team

Deliver a successful Scrum project

Explain and sell Agile and the Scrum framework to other key stakeholders

Set-up and facilitate Scrum Meetings

Understand the Scrum roles, artefacts, events, and practices
Audience
This course will benefit anyone who seeks to achieve the role of ScrumMaster® to drive a Scrum project, and applies to those with a background as Customer/Users, Project Managers or Developers. It will also benefit anyone who is to be involved in a Scrum Project, and in any of the Scrum Roles. The course is also suitable for those involved in transitioning to Scrum within their own organisation.
Pre-requisites
There are no prerequisites for the course. However students are expected to complete the pre-course reading prior to attending.
Course Preparation
You should allow some time prior to the course to familiarise yourself with key Scrum terms and definitions, as described in the Scrum Guide. An online, as well as downloadable pdf version of the Scrum Guide, is available as pre-reading.
You should be aware that this is a Certified Course and 8 hours of training per day MUST be attended. This means you must be present at all times during the daily start/end times detailed above; your day will however include 1.5 hours break. You must attend this time to be eligible for certification and the trainer reserves the right not to register you with the Scrum Alliance if you do not attend the training for the required hours.
Certifying Bodies & Exams - Requirements
Attend an in-person, 16-hour course taught by a Certified Scrum Trainer

®

(CST

®

)
After successfully completing the course, you will need to take the 50 question CSM test and answer 37 out of the 50 questions correctly within the 60 minute time limit
After you pass the CSM test, you will be asked to accept the CSM License Agreement and complete your Scrum Alliance membership profile
Maintain your CSM certification by earning Scrum Education Units® (SEUs) and renewing your certification every two years. Learn more

Annual Renewal

Renewals are from the date of certification
Renewal fee is €88.26 and covers two years extension from your current expiration date.
What You Receive
Two days of high quality instruction from one of our Scrum Alliance Certified Scrum Trainers.
Also included are:
Course materials
Exam
Recognition by the Scrum Alliance as a Certified Scrum Master after passing the exam
Two years membership to the Scrum Alliance
Refreshments before and during the course are provided (for courses on our public schedule)
Radtac Community membership including face-to-face and virtual networking and knowledge sharing opportunities, access to industry experts, special offers and invitations to special events
PMI Professional Development Units (PDUS)
Attendees may be eligible to apply for 16 PDUs towards their continuing education requirements with PMI
Meet the Trainer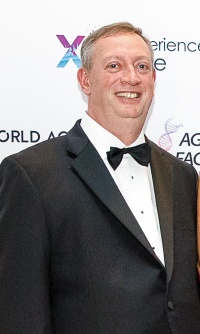 Iain is an award winning trainer, coach and practitioner who has successfully used Scrum together with other agile and lean frameworks over a number of years both in project recovery and greenfield projects. Iain has also been extremely successful in helping many organisations adopt or improve their use of Scrum including United Health, BBC, Cisco and BSkyB.
Having worked with IT for over 35 years, Iain has a wealth of experience ranging from operations, analysis, testing, software engineering, project and programme mamagement through to IT Leadership. Iain has also been a customer and user of many software products over the years. This breadth of experience helps Iain to work with teams to build high quality products that meet the needs of all stakeholders, often exceeding expectations through innovation and focus on value and eliminating waste.
FAQs
What do I wear?
Wear what makes you feel comfortable while trying not to make others uncomfortable. We will be in jeans and golf shirts.
Will food be provided?
Yes, coffee breaks and lunch will be provided.
Are there ID or minimum age requirements to enter the event?
The course is open to anyone age 18 and up.
Do I need to bring a computer to the event?
No. Personal computers are not necessary. All course material will be provided.
How can I contact the organizer with any questions?
Use pttraining@radtacportugal.com
What's the refund policy?
No refunds. If this is a concern, please contact us.
Can the course be postponed/cancelled?
We reserve the right to postpone or cancel this course if there are insufficient registrations. If this is the case, you will be notified between 3 and 5 working days before the course start date. In this case, you will be offered an alternative date or a full refund. We will not be responsible for any other costs incurred.
Are there discounts for groups?
Yes, if you have a group contact us for a discount.

All trademarks mentioned are the property of their respective owners.