*Don't forget: save time at check-in by registering for this event via Eventbrite. 
About the Event:
Predicting the future isn't a superpower, it's the primary skill we use when we decide what to build. Like any skill, you can rapidly get better with deliberate practice. Taking a cue from machine learning Twitch employees learn to predict the future by predicting key outcomes from the past. We'll make predictions together, and he'll share the best practices he's found while building a training 97% of Twitch staff would recommend to a colleague. Checkout his publicly available prediction training here. It's been found that once calibrated, any confusion and awkwardness people have about probabilities and predictions evaporates.
About the Speaker: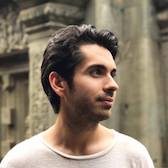 Data scientist, Danny Hernandez, joined Twitch six years ago when it was still codenamed Xarth. His primary focus for the last year there has been building a culture of regularly predicting the future. He also recently founded The Pledge, which helps mobilize people to take effective political action. He brings a full stack to the problems he works on: product management, engineering, machine learning, writing, and design. Outside the office he enjoys soccer, singing, dancing, meditating, and reading.
About Galvanize:
Galvanize is the premiere dynamic learning community for technology. With campuses located in booming technology sectors throughout the country, Galvanize provides a community for each the following:
Education - part-time and full-time training in web development, data science, and data engineering
Workspace - whether you're a freelancer, startup, or established business, we provide beautiful spaces with a community dedicated to support your company's growth
Networking - events in the tech industry happen constantly in our campuses, ranging from popular Meetups to multi-day international conferences
To learn more about Galvanize, visit galvanize.com.
*Reminder: register for this event via Eventbrite.