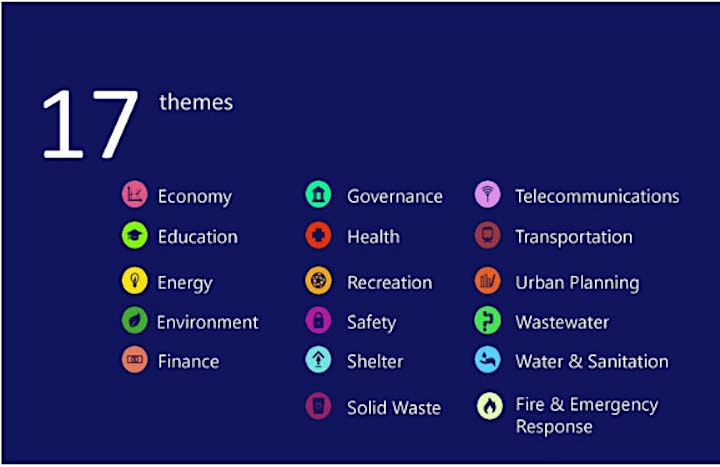 Live Streaming Smart City Expo 2022 Worldwide
Discover Future World Trends & Digital Transformation of Services in Cities of The Future at 14th International Smart City Expo. Explore Case Studies of Smart City, Sustainable Economic Development, Climate Change, Business Intelligence, Internet of Things (IoT), Blockchain, Cybersecurity, Big Data Analytics, 5G, SmartCity Public Private Partnership (PPP), Sustainable Development Goals (SDG)s, Smart Utilities, Smart Health, Smart Transportation, STEM, Digital Marketing and Artificial Intelligence from World Renowned Speakers at this event.
Conference Topics
The conference themes encompass following emerging trends:
How Innovation can Help to Mitigate #Corona Virus
Smart City
Digital Twin
Sustainable Development Goals (SDGs)
Business Intelligence
Digital Transformation
Cybersecurity
Artificial Intelligence
Smart Buildings
Smart Transportation
Smart Utilities
Blockchain
5G
Future Currencies
Jobs of the Future
Women in Tech
STEM
Digital Marketing
Climate Change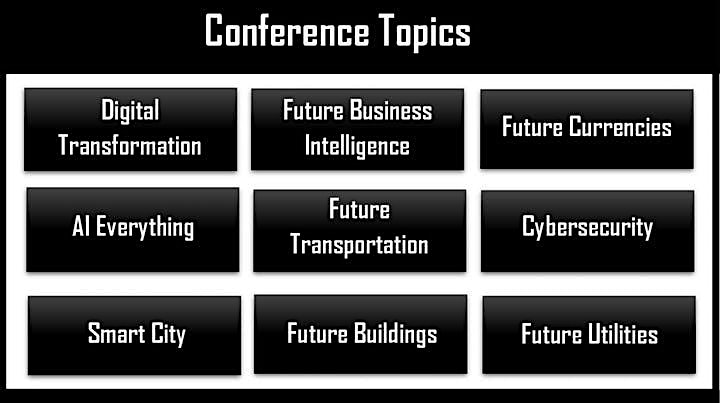 Conference Programme
10:30AM-11:00AM
Speaker Renato de Castro
International Advisor for The World e-Governments Organization of Cities and Local Governments
Italy
Topic: Emerging trends in the post COVID-19 world
11:00AM-11:30AM
Speaker Marouan Aouri
Digital Transformation Director and Chief Architect, Cognizant
UAE
Topic: Connected vehicles, autonomous drones, and Smart Cities become our new reality
11:30AM-12:00PM
Speaker Dr. David Soldani
CTO, HUAWEI, Aus. and Chairman of IMDA 5G Task Force IMDA
Australia
Topic: Connectivity of People and Devices Ensures a Better Future
12:00pm-12:30pm
Speaker Alexander Holt
Emerging Opportunities and Partnership, Digital Directorate at The Scottish Government
United Kingdom
Topic: GovTech - why startup innovation is essential for future public service delivery - but how do you procure what you don't know exists?
01:00PM-01:30PM
Speaker Sunil David
Regional Director - IOT (India and ASEAN region) at AT&T
India
Topic: How IIOT serves a critical role during COVID-19
01:30pm-02:00pm
Speaker Zafar Imran
GTM Leader OCI Security & Integration A&C ECEMEA at Oracle
UAE
Topic: Cloud security in the age of data breach
02:00PM-02:30PM
Speaker Muhamed Sadek
Founder, CEO
COM-IoT Technologies
02:30PM-03:00PM
Regiane Relva Romano
Advisor MCTIC, Ministry of Science, Technology, Innovations and Communication
Brazil
Topic: How Brazil is getting post-pandemic ready for the future of work
03:00PM-03:30 PM
Speaker Dr. Musa Shaikh
Advisor to H E Shaikh Khalifa Al Hamid
Smart Governance Policy Advisor
UAE
Topic: Smart card for effective governance
04:00-04:30PM
Speaker Frank Sheehan
CEO – Managing Director at HyperSphere
Topic: Importance of AI/ML and Seamless Integration in City Operations
04:30PM-05:00PM
Speaker Nadine Bitar Chahine
Consultant /Advisory services, Regional & Strategic Urban Planning
UAE
Topic: Smart places and resilience
05:00PM-05:30PM
Speaker Jorge Sebastiao
CEO Global Blockchain Organization
UAE
Topic: Visions for the future of blockchain
05:30PM-06:00PM
Speaker Paul Kayrouz
Head of Fintech, Blockchain & Emerging Technologies PwC
Middle East
Topic: BigTech financial services: trends and potential growth
DAY 2
10:30AM-11:00AM
Speaker Mark Thomas
Managing Director, Serviceworks Group Ltd.
New Zealand
Topic: Harnessing technology to manage pandemic response in the city
11:00AM-12:00PM
Speaker David Cavanagh
Managing Director, Integrated Energy Pty Ltd.
12:00PM-12:30PM
Speaker Rafi Rich
Chief Urban Disruptor
S.U.iT.S
Israel
01:00PM-02:00PM
Panel Discussion on Digital Transformation
Panelists:
Fadi Shannah, 5G, IoT, Smart Cities & Digital Transformation expert, Sr. Director at Etisalat, UAE
Dr. Hafiz Yasar Lateef, Lecturer, Victoria Univ. Sydney.
Sunil Mysore Kempegowda Principal Enterprise Architect, Digital Transformation & Innovation CloudTech Info Pty Ltd.
02:00PM-02:30PM
Speaker Tracey DeLeeuw
CDO, Co-Founder, Future Land
Canada
Topic: Post Covid Future Of Work
02:30PM-03:00PM
Marwan Zeidan Real Estate and Healthcare Segment Director – MEA at Schneider Electric
UAE
Topic: Smart City Building Blocks
03:00PM-03:30PM
Speaker Bob Sharon
Founder & Chief Innovation Officer, Blue IoT
Australia
Topic: Digital transformation in smart buildings and cities
03:30PM-04:00PM
THOMAS NG
Managing Director, United Arab Emirates
Topic: Sustainable Digital ECOSystem for A Smart City.
04:30PM-05:00PM
Prof. David Provenzani Managing Director, ARCH ITALY
04:30PM-05:00PM
Misha Mittal
Strategic Planning & Management of Urban Developments / Urban Planner / Architect
UAE
Topic: Smart Urban Planning Case Studies in Abu Dhabi
05:00PM-05:30PM
Speaker Vikas Kanungo
Senior Consultant - Digital Development Global Practice, The World Bank
05:30PM-06:00PM
Speaker Khaldoun Aboul-Saoud
Innovator and Evangelist
UAE
Topic: Case Studies of Iot in UAE
How Innovation can help to Mitigate the Corona Virus Threat?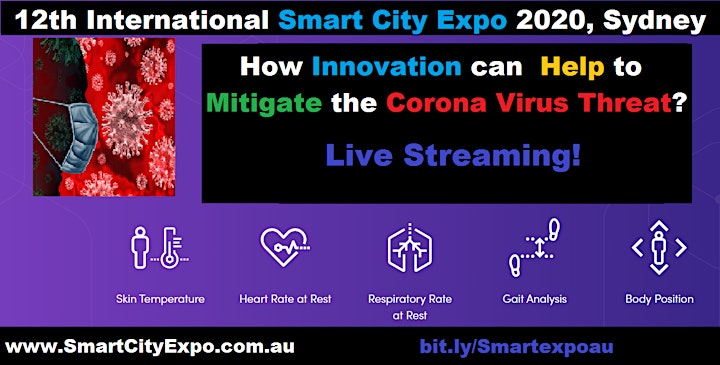 The sudden emergence and rapid spread of a novel corona virus, now called Covid-19, is a reminder of the power of infectious diseases at this conference session via live streaming or onsite.
Explore how innovation and technology are better equipping us to handle public health emergencies and contain the spread of diseases.
The exponential growth of connectivity and the access to the wealth of data it offers allows health officials to quickly track the spread of disease, giving vulnerable populations vital information. Tech organizations have generated maps that display population density, demographics, and travel patterns, enabling researchers to decide where to send supplies or how to mitigate an outbreak. Similarly, hospitals and airports are using technology to monitor patients and disinfect facilities.
Wearable sensors can measure an individual's temperature, respiratory rate, heart rate, and coughing the symptoms of corona virus and can transmit updates every 10 minutes. Similarly, a germ-killing robot with strategically placed ultraviolet-C lamps, can be used to sanitize airplanes from most viruses on surfaces and in the surrounding air.
The growing possibilities of Tele-medicine will help patients get the care they need, without putting doctors at risk. Remote patient monitoring enables earlier and more accurate diagnoses. Remote care powered by 5G is already being used for remote diagnosis of Covid-19 in Wuhan, China, where doctors are already stretched thin.
These advances show the great things that can happen when medical expertise and tech innovation are brought together.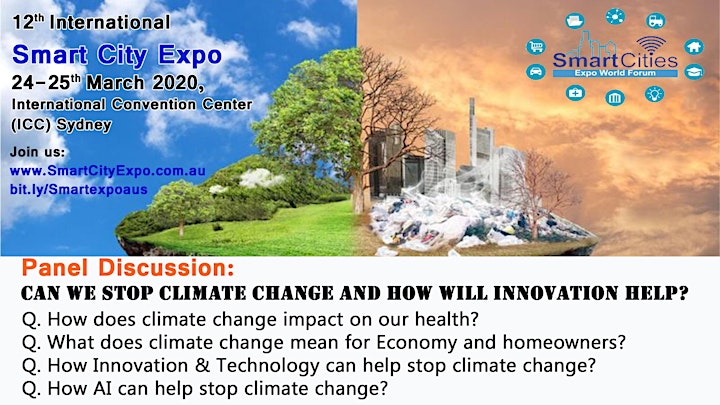 Digital Transformation Conference Session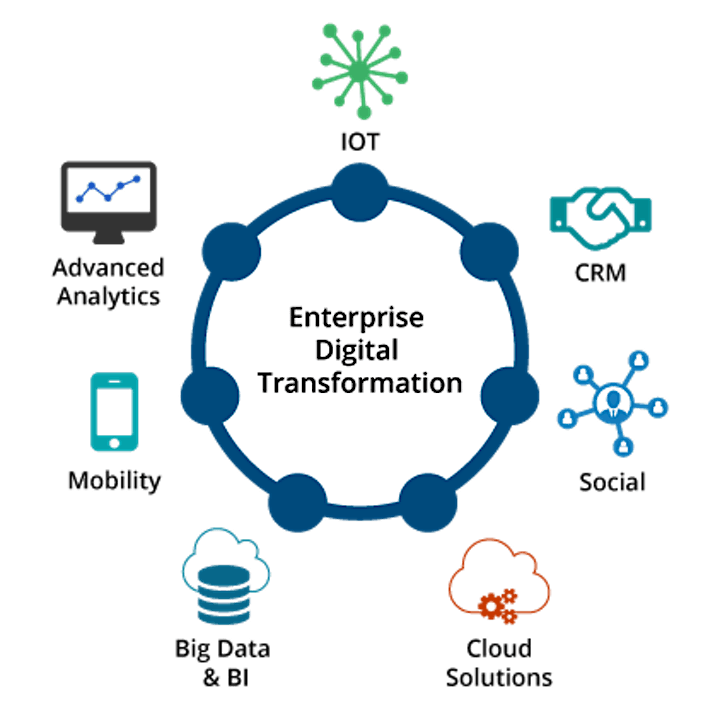 Digital transformation is on every organization's agenda. Digital transformation is all about using technology to better solve customer problems. Emerging technologies like AI and machine learning play a big part in helping IT innovate and improve business outcomes.
Explore cutting-edge case studies of Digital Transformation of Business at Digital Transformation Conference Session.
Smart City Conference Session
Smart City conference session will enable you to understand Digital Transformation of Urban Services through the utilization of Big Data Analytics, Internet of Things (IoT), Blockchain, Smart City Financing Models, Public Private Partnership, Cybersecurity and Artificial Intelligence.
Smart Mobility & Smart Transportation Conference Session
Explore opportunities and challenges posed by a number of technology developments and how these could change customer mobility, and the capabilities of transport providers:Technology-enabled mobilityWorld-class mass transit for our customersMore service possibilities with connected and automated vehicles (CAVs)Using drones to support the future transport taskTransport powered with alternative fuels
Smart Buildings Conference Session
The Future of Buildings belongs to buildings with sensor networks that can monitor electricity and water usage in real time, track sustainability performance and interact with other parts of the smart city. Data collected and insights generated by smart building technologies can lead to changes in facilities management that reduce energy consumption for climate and sustainability goals and help improve public health and safety.
Explore emerging Smart Building Technologies at Future Buildings conference session.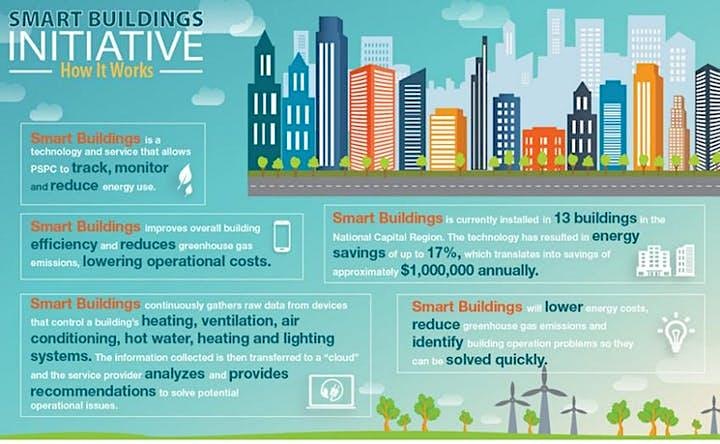 Business Intelligence (BI) -Conference Session
Explore how to transform data into actionable intelligence that informs an organization's strategic and tactical business decisions at Future Business Intelligence conference session.
Blockchain Conference Session
Learn how to transform your business and digitize your transaction work flows using Blockchain at Blockchain conference session. Blockchain allows businesses to transact more smoothly and efficiently.
Artificial Intelligence Conference Session
Explore numerous applications and huge possibilities in the field of Artificial Intelligence (AI), which continues to expand human capability beyond our imagination at AI conference session.
Smart Utilities Conference Session
Are utilities prepared for what is coming, do they have a viable strategy in a changing marketplace? On the one hand there is the smart home but on the other are the disruptive activities of technology companies like Amazon and Google and other stakeholders like Enel, Engie, and Shell Energy. Collectively, the changes in the industry go deeper, wider, and portend a much different energy landscape over the horizon.
Explore various case studies of emerging Smart Utility Systems at Future Utilities conference session.
Cybersecurity Conference Session
Cybersecurity should be a major concern for every organization in business today. Cybercrimes affect all types of organizations (large, small, well-known, private, public, etc.) and seem to be making news headlines nearly every day. The impact of a breach on your organization can mean significant profit loss, regulatory fines, reputation destruction and the loss of valuable customers. When customers trust your organization, you are expected to protect their customer data. That's why organizations need to learn how to collect, properly utilize and eventually eliminate customer data, all while maintaining robust security posture.Explore how organizations can be transparent, prepared and vigilant for cybersecurity threats at cybersecurity conference session.
Future E-Commerce Conference Session
E-commerce is growing rapidly, with worldwide sales anticipated to be $4 trillion in 2020. The evolution in e-commerce can be partially credited to the developments within innovative payment methods such as e-wallets, new payment options, in-app purchasing, and peer-to-peer lending and payments (like Venmo and even Facebook cash). Explore how consumers can utilize emerging payment methods for online payments security, accessibility, convenience, and efficiency at Future of Payments conference session.
Who Should Attend?
Smart City Expo 2020, Sydney is designed for all the people involved in local, state and Federal government decision making and analysis. Moreover, this event is also beneficial for private sector companies which want to participate into the development of smart cities. The executives from the following categories are suitable for this course:
Local, State and Federal Govt. Professionals
IT Engineers, CIOs and CTOs
Strategic Development Personnel
Researchers & Students
Professionals Working on Public private Partnerships
Project Managers
Urban Planners
Economic Development Professionals
Media Professionals
Government Employees